Motor Sports Galleries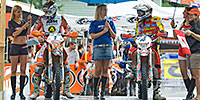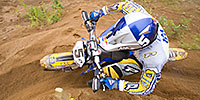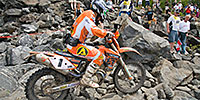 Enduro Motorcycle Racing
Maxxis FIM World Enduro Championship - Parry Sound, Ontario Canada - Day 2 - 16 July 2006
This has been a historic step for the World Enduro Championship (WEC) with its first race in North America. The extremely challenging off-road motorcycle racing takes place over two days. In Parry Sound, the course loop was 65km long and included three special test areas: Cross, Enduro and Extreme. Three grueling loops of the course were ridden each day.
Day 2 Start - under overcast skies and rain, the riders set out for a long day of racing.
Cross Test 1 - the rain ended before the riders arrived at the first Cross Test of the day allowing them to attack the course at will.
Extreme Test 2 - the sun came out for the riders' second loop through the Extreme Test consisting of an ultra challenging route through sharp gullies, steep rock strewn drop-offs and wet boulders of the Georgian Bay shoreline.
Visit www.worldendurocanada.com for details on the Canadian race and www.abc-wec.org for information on the championship race series.
Freestyle Motocross
The 8 Six Six Industries Team at the Village at Blue Mountain - 27 August 2006
A spectacular demonstration of Freestyle Motocross by Billy Van Vugt and Mike Judge right in the center of the village. The images cover parts of the last two shows on Sunday, part of the two day Wakeboard Festival produced by SBC Events.