Ski Mountaineering Galleries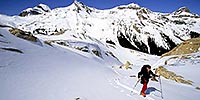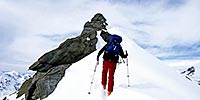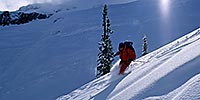 ... more images and details coming soon ...
Ski Tour 2011
Video clip of skiing above Bow Hut - shot by Neville Mallett
Ski Tour 2010
IMAGES from a January tour that included the Wapta Icefield, Stanley Mitchell Hut in the Little Yoho with a trip to President's Col, a Big White Backcountry outing and a history tour around Sunshine Village.
Ski Tour 2009
Including a trip into Fryatt Hut ...
Ski Tour 2007
Including a trip into the new Fay Hut ...
Ski Tour 2006 - The Haute Route
Skiing the famous European Haute Route - East to West route from Switzerland to Italy and France.
Ski Tour 2005
IMAGES from March and April - Kicking Horse Ski Resort Warmup, Big White Powder, Wates-Gibson Hut in the Tonquin Valley and the Fraser Glacier, Wapta Icefield Whiteout and a Wapta-Yoho Traverse via Waves Creek ...
Mount Logan Yukon Canada 2000
Selkirk Mountain Experience
Durrand Glacier Chalet
Monashee Traverse
The Haute Route
Wapta Icefield Alberta / BC Canada
Four Days Solo - Easter Weekend 2004 (new)
Stanley Mitchell Hut - Yoho National Park
Emerald Pass
Mount Kerr
Rogers Pass