Wind Sports Galleries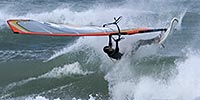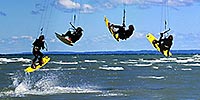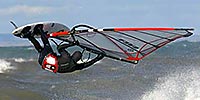 Windsurfing
Ontario's Top Windsurfing Spots
Sunset Point Collingwood, Georgian Bay
Top Picks from Wave Sailing at Sunset Point, 29Sep2005 - Dan Tricco and Barney Huycke putting on an awesome show on one of the best Fall days in 2005 - wind was averaging in the mid 30mph range, gusting into the forties and up to 50mph!
Mike Leblanc Wave Sailing - 29 September 2005 ... many more images from the day to come! Plus Loops by Barney!
Great Lakes Wave Sailing at Sunset - 17 October 2004
HUGE Day of wind at Sunset and spectacular light - 15 October 2003 - featuring Barney Huycke, Dan Tricco, Johnny Oosterholt, Mike Leblanc, Roger Klein and Harold.
Minet's Point, Kempenfelt Bay - in Barrie on Lake Simcoe
A beautiful Summer day at Minet's - 25 July 2005 - featuring Geoff Mitchinson
Sauble Beach, Lake Huron
Wave sailing a warm South-West at Sauble - 3 October 2004
Wasaga Beach, Georgian Bay
Stormy late Fall day of Kiting and Windsurfing at Beach Area 6 - 31 October 2004
Magdalen Islands ... Coupe Des Iles
... coming soon ... in the mean time, visit the old display on DonBauer.ca
Kite Boarding
Wasaga Beach, Georgian Bay
Rogue Wave Sessions - stormy action at Wahnekewaning Beach during southerly wind (30-September-2006)
High Winds and Waves - featuring huge air by Dan Tricco and "Smokie" (20-September-2005)
SNOW Kiteboarding
Rob Vanyi and Kyle Nesbitt ripping the snow with a Cabrinha Switchblade - Ontario Highlands ( 27-January-2006).
On Georgian Bay, west of Collingwood
At a secret stash of sandy shoreline, Dan, Rob and Mark put on a spectacular demonstration of Kiteboarding. With warm water, clear blue skies and just the right amount of wind, conditions couldn't have been more ideal to capture these images. (5-August-2005)
Dan Tricco - TRIC CARBON - putting the Cabrinha Crossbow 12 through its paces.
Rob Vanyi and Mark Brocklehurst in action.
Multi-kite action plus distance shots and Crossbow close-ups. Play a Flash Sequence of Dan.
Great Lakes Surfing - (a sport dependent on wind here in Ontario)
Lake Huron ... comign soon ...
... more coming soon ...
... browse my other web site's Windsurfing Collection in the interim